By Reverend Donn
As we face a New Year I want to remind us of a story in the Bible (Numbers 13) when the Israelite's came to the Promised Land. You may recall that God had delivered the Israelite's out of slavery and out of the land of Egypt. But even though God had provided miracle after miracle to help them escape Egypt (crossing of the Red Sea); gave them guidance as they journeyed, (pillar of fire at night, pillar
of cloud during the day) and provided for them in the wilderness (manna, water), when they saw the Promised Land some of them despaired. Remember? Moses sent out 12 scouts to explore the Promised Land. Ten of the scouts came back and said, 'These people are giants, we are like grasshoppers to them, there is no way we can enter the land.' But two of the scouts, Joshua and Caleb said, 'we got this because we've got God.'
Some people see challenges, others see opportunities; some despair, others hope. People can see the same thing, and yet reach two totally different conclusions.
Sometimes because of previous pain or disappointment, people will make their conclusions about life. This means that beyond just seeing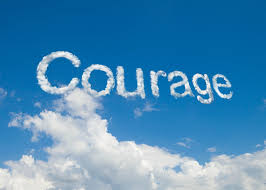 what is wrong with the world, they lack the courage to do something about it, they are afraid of accepting responsibility. Such people are often called 'cynics.' The word 'cynic' comes from the Greek word for dog. The original cynics were followers of the ancient philosopher Diogenes and were called dogs because they proposed to live like dogs, no convictions, no shame. They believed the universe had no meaning; that aspirations were mere pretension; and to accept the meaninglessness of the universe; to just lie down on a park bench and get some sun while you can.
We are not followers of Diogenes; we are followers of Jesus, which means we have hope.
Joshua and Caleb saw 'the Promise' of the Promised Land, the promise that God would be with them. That's the whole message of Christmas, the birth of Jesus, Immanuel; God with us, and here we are at the start of a year and lest we think the challenges are too big, don't forget, God is with us. Someone once said, 'Faith requires belief, and believing is what we do with our minds.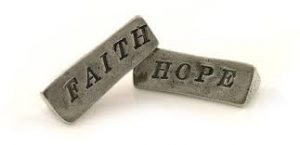 Faith requires commitment, and commitment is what we do with our wills. But faith must also have hope, and hoping is what we do with our hearts.' The Bible says it like this, ' hope does not disappoint us, because God's love has been poured into our hearts.' (Romans 5:5)
So I wish you a Happy New Year, I wish you a Healthy New Year, and I pray that each of us will face this New Year with hope. We've got this, because we've got God. God Bless.