I was in the store the other day and saw a "Universal Remote," and I'm thinking, 'Wow, I can control the universe with a remote. I can rule the world and never leave the couch! This is great!' Obviously, that's not what the remote was for, but there have been plenty of times when I've wished I could control the universe. "Bruce Almighty" doesn't have anything on me!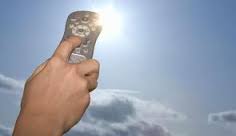 Of course it's not just me. The story of Adam and Eve eating the fruit wasn't about apples or pears; it was about wanting to be like God. In Genesis 11, we read about the Tower of Babel; it is not a story about architecture, it is about arrogance. There is nothing wrong with dreams or ambition, but God had said, "be fruitful and multiply and fill the earth," (Gen. 1:28), not build a stairway to heaven (smile).
Seeking to control things is different than trust. We are called to trust God, not control the universe. Power is seductive; it makes us think we (or others) have control. But there is only one universal remote, and God has it. Think about it, how many times have we 'lost' the remote to our TV or accidentally hit the wrong button? Can you imagine the disaster that would bring to the universe?
Instead of seeking control, let us learn how to trust more fully in God. Besides, we don't need to build a tower to the heavens because God is always with us.
Donn