By. Rev Donn:
Daylight Saving Time is set to begin on March 13, and we will 'spring forward' which means we will lose an hour of sleep as we set our clocks forward an hour on Sat. night, March 12. On one of my last Fireside Chats I shared a story about an Indian Chief listening to a government official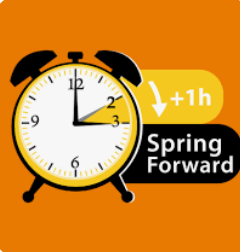 explaining the concept behind Daylight Saving Time. When the official is done, the Chief remarks, 'Typical of the government. It cuts a foot off the top of the blanket, sews it on the bottom, and thinks it has a longer blanket.'
Of course the purpose of Daylight Saving Time is to give some people more useable daylight, we don't actually get more daylight (outside of the fact that we always have more daylight in summer than winter no matter how we measure it). All we are really doing is 'clipping off' an hour of daylight from the morning and 'clipping it on' in the evening. We don't actually get more daylight, it's just the way we choose to measure it.
One measure of light that always stays the same is Jesus Christ. Jesus is the Light of the world. In the Gospel of John 8:12 Jesus says, 'I am the light of the world, those who follow me will not walk in darkness, but will have the light of life.' Jesus is a measure of light on which we can always depend.
In addition to this, another measure of light is you. That's right. Jesus says you are a light. In His sermon on the Mount, in Matthew 5:14-16 Jesus says,
"You are the light of the world." He doesn't say you could be a light, he says you are. In a time when there is so much darkness and division, I am thankful that you bring light, hope and wholeness. Your acts of kindness and caring, your thoughtfulness and prayers, your words of encouragement and support help to bring light to others and to the world.
Do you remember the song, 'This Little Light Of Mine'? That's the song you sing, you let it shine, you don't hide it and you don't let Satan blow it out, your life shines with God's love and grace. 'And for that I am very thankful' is the closing line I would use on many of my Fireside Chats and it is no less true now than it was then. Thank you for letting your light shine, for shining the light of God's love and grace, for reminding us of the truth in John 1:5, 'The light shines in the darkness, and the darkness has not overcome it.'
Thank you and God Bless