By Rev. Donn Brammer
If you go to the National Cathedral in Washington DC you will notice that there are flags inside the cathedral from each state, that represent significant people from those states. When I was last there I remember 3 flags from
Georgia. One was for Woodrow Wilson; you might remember he was President during WW I, won the Nobel Peace Prize for his vision of a "League of Nations," (the irony being the world recognized his vision but the US Senate did not). But he was not from Georgia. He started a brief law practice in Atlanta but his first wife was born in Savannah and raised in Rome, Georgia and I think that's how he really got a flag,
smile.
Another flag is for Robert Alston and I doubt if you've ever heard of him. He served in the Civil War, came from a very well-to-do family in Georgia, served in the Georgia Legislature, and was appalled at the political corruption he saw. One of the things that bothered him was the custom in those days for wealthy and influential people to use state prisoners to work on their mansions, their plantations and build their commercial buildings, many of the fine old buildings and homes from the late 1800's that you can see today were built by these prisoners. All you had to do was provide lunch. Well Alston said it was wrong and he told his fellow legislatures he was going to introduce a law to stop it. And the next morning a fellow legislator (from the Cox, family…yes, that Cox family) asked Robert if he was going to really do it, and Robert said, "Yes," and Cox shot and killed him on the capital steps. He was killed trying to stop corruption and bring change.
The 3rd flag is for someone I know you've heard of, Martin Luther King, Jr. An American Baptist preacher who
helped to lead the Civil Rights Movement and gave a 5 minute speech that ignited a nation with a dream we all share. April 4 will be the 50th anniversary of his assassination. He gave our country a vision of hope and change.
June 6 will be the 50th anniversary of RFK's assassination, who, paraphrasing George Bernard Shaw, said, "Some men see things as they are and say, why; I dream things that never were and say, why not." November 22 will be the 55th anniversary of JFK's assassination, and some may remember when he said, "Ask not what your country can do for you; ask what you can do for your country." April 15 is the 153rd anniversary of the assassination of Abraham Lincoln who gave healing and unity to a country that had been split in two.
April 14th will be the 2nd month anniversary of the Parkland mass shooting. April 20 will be the 19th anniversary of
the massacre of high school students at Columbine High School. October 1 will be the 1 year anniversary of the Las Vegas shooting. December 14 will be the 6th anniversary of the murders of 6 and 7 yr. old students at Sandy Hook Elementary in Connecticut.
Maybe instead of looking at flags hanging in the National Cathedral we should look at the cross and remember Jesus. His death redeems us, but our silence in the face of killing after killing after killing condemns us. Keeping things the way they are is not going to bring about the change we need. We all know the quote, "Insanity is doing the same thing over and over again expecting a different result." Our country has been blessed with leaders who led us to change.
I heard of someone who posted that when the 2nd amendment was written people used muskets that could
take 6 minutes to load and had limited range and accuracy; a far cry from the rapidly repeating assault weapons readily available in mass quantities today.
This is not some tirade, I have many friends who are very responsible gun owners, I have friends who by their own admission had so many weapons they could qualify as a 3rd world country. I have no desire to limit their enjoyment or their freedom. That's not what this is about.
We begin this month with Easter, the celebration of the resurrection of Jesus. Jesus isn't looking for admirers, Jesus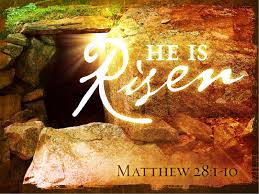 is looking for followers, for disciples, for people willing to show up, stand up, and speak up. Speaking up, sharing a dream; we all know such things can make a difference. We also know it carries a price; we won't be popular and we can be targets of hateful language and hurtful actions. I've shared with you before a quote from Edmund Burke (a member of the Disciple church!), "The only thing necessary for the triumph of evil is that good men [people] should do nothing."
When Hitler came to power in Germany many church people stayed silent because the economy was booming and he was helping the country gain an identity. Martin Niemöller (1892–1984) was a prominent Protestant pastor who emerged as an outspoken public
foe of Hitler and spent the last 7 years of Nazi rule in concentration camps. He is perhaps best remembered for the quotation: "First they came for the Socialists, and I did not speak out, because I was not a Socialist. Then they came for the Trade Unionists, and I did not speak out, because I was not a Trade Unionist. Then they came for the Jews, and I did not speak out, because I was not a Jew. Then they came for me, and there was no one left to speak for me."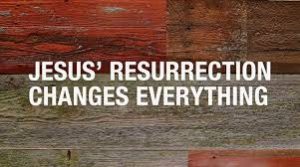 The way things are is not the way things need to be, the resurrection changes everything. But we have to be willing to follow Jesus, who was resurrected to offer us hope and change. Donn