There is a story told about WW II American soldiers who were fighting in the rural countryside of France. One of their friends was
killed during the battle and they did not want to leave his body on the battlefield. They remembered a church a few miles from the front that included a cemetery enclosed by a white fence and, after receiving permission, took their friend's body and hiked back, arriving just before sunset.
They knocked on the door and a very old priest, answered. They explained, "Our friend was killed in battle and we want to give him a church burial."
Apparently the priest understood what they were asking, even though he only spoke very broken English, and said, "I am sorry, but we can only bury those of the same faith here."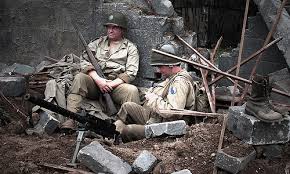 Weary from so many months of battles and the hike, they turned tiredly to walk away. "But," the priest said, "you can bury him outside the fence." Cynical and exhausted, the soldiers dug a grave, recited Psalm 23, and said a prayer. It was very dark by the time they finished.
The next morning the unit was ordered to move on and the group of friends ran back to the little church to say one final goodbye. When they arrived, they could not find the gravesite.
Tired, confused, and upset, they knocked on the door. "We are sorry to bother you again," they said, "but it was dark last night and we were exhausted when we finished and we cannot find our friend's grave."
The priest smiled and said, "I went out early this morning and I moved the fence."
Jesus did more than move a fence, he tore it down, no more would sin or death separate us from the love of God. That is what we celebrate at Easter and everyday, the resurrection of Jesus.
Jesus also came so we would no longer be separated from each other. He came to remind us we are all God's children.
I am reminded of a line from the poem "Outwitted" by Edwin Markham (a Disciple!):
"He drew a circle that shut me out,
heretic, rebel, a thing to flout.
But love and I had the wit to win:
We drew a circle and took him In!"
Whether we are moving fences or drawing circles, we are called to
share the Good News of Jesus' Resurrection, that nothing separates us from God or one another.
Donn