By: Reverend Donn Brammer 
There's been a lot of talk (which will probably be resolved by the time you read this) about judges, in particular Supreme Court Justices. I have to say I'm a bit disappointed that I've never been asked. So I've never gone to Law School, so I've never taken a Bar exam, so I've no experience as a lawyer, the thing that qualifies me (in my opinion) is that I have a lot of experience in judging.
Usually others. I judge people by the way they look, by the way they act, and by the things they say. I judge people by their intelligence and their willingness to help others and work hard. I judge others by their sense of humor, as well as their sense of dedication and commitment. I judge. A lot. Even though I know I shouldn't, I do.
And in judging others I end up excluding some people. There are some people I don't want to be around.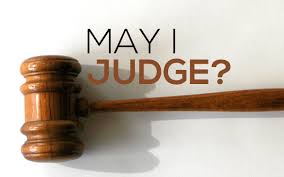 I don't want to be around people who don't practice good hygiene. I don't want to be around people who are loud and obnoxious. I don't want to be around 'pretenders' and/or people who say one thing but don't follow through. I don't want to be around people who have anger issues, who are always confrontational, who always have to be right. And perhaps most of all, I don't want to be around people who lie (not in the fun way of lying, where we all know they are joking, but who are evasive and lack honesty and integrity).
I have standards, but the truth of the matter is I can't meet my own standards.

Jesus has standards too. Basically Jesus standard is, if you want in, you are in, and even if you don't want it, we'll keep the light on for you. When it comes to the question of who is in with God and who is out, Jesus and the New Testament consistently focus on the center, not on the boundaries.
In John chapter 4 we read about Jesus having the longest recorded conversation in the gospel with a woman who was 'judged' and 'excluded.' They were at a well and Jesus told her, "…whoever drinks of the water that I shall give him will never thirst; the

water that I shall give him will become in him a spring of water welling up to eternal life." (John 4:14)
There is an old tradition on large Australian ranches located on often very dry land that there are two ways of keeping cattle on the ranch. One is to build a fence; the other is to dig a well. This is the gift of grace that is offered to a world that has become increasingly polarized and politicized. No fences to keep others out, just the life-giving water of Jesus, drawing people ever closer to his presence, his love, his grace and the Kingdom of God.