School is over but summer is a great time for us to try new things, to continue to learn. We can learn how to swim, how to square dance, how to play guitar, how to paint or learn a foreign language. Some years ago I heard about a woman in California named Florence Detler who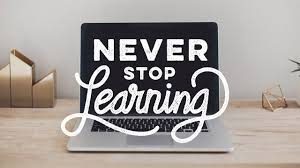 decided she needed a new challenge so she went on Facebook. She was 101 years old!
Sometimes in school there is so much pressure to pass and succeed that we can lose our joy of learning. Summer is a great time for us to recover that. Do you remember how excited you felt when you learned to ride a bike or drive a car? There is an adventuresome quality that can both excite us and, if we are honest, also cause us a bit of fear. We are excited to go off the high dive, but we are also a little scared. One of my favorite lines from the movie, "Armageddon" is when
the oil-rig crew is being strapped into the shuttle and Oscar says, "I'm 98% excited, 2% scared, or maybe I'm 98% scared and 2% excited." Sometimes learning will involve both.
So many times we get tied up in fear, we worry about trying new things or learning new things because we worry about failure. We forget that failure is a part of life and fear is a part of growth. Fear and growth go together like peanut butter and jelly because the decision to grow means making a choice between risk and comfort. Wayne Gretzgy the Hall of Fame Hockey Player said, 'You miss 100% of the shots you don't take.' Now I'm not advocating taking your lifetime savings and playing the lottery, but I am saying as Christians, we are called to take risks.
God doesn't call us to be successful, God calls us to be faithful, and living a life of faith is always going to involve risk.
Most of us try to construct lives of comfort, convenience, and security to help us maintain an illusion that we are in control. But staying as we are, where we are, isn't going to take us anywhere, isn't going to help us grow or develop. Jesus calls us to follow, invites us on a path of discipleship and spiritual growth.
School may be over but the excitement of following Jesus never ends.
                                                                    Donn