Rev. Donn Brammer
I am very blessed on occasion to take walks with our son. The walks take about an hour and the conversation is usually about chemistry, bio-chemistry, physics, and differential equations which means that not only do I have a hard time keeping up with him on the walk, I have a hard time keeping up with the talk. Fortunately for me, he not only walks at a pace I can manage, he is also a very patient teacher.
One of the lessons I've been trying to learn is from the field of electricity and chemistry. As I understand it, there is a difference between a 'conductor' and a 'resistor.' A conductor is willing to let its electrons go, the electrons can quite easily pass from one atom to another. But the resister does not want to let go. It hangs on to its little electrons.
In some ways the resister clings to the status quo, it's afraid to let go because it wants to keep its little possessions (i.e. electrons) in tact. And it does. But the resister never knows much power.
The conductor is not particularly strong or clever, it simply works as a conduit, it is open and receptive to the flow of current that can change the world from darkness to light.
Some of you may remember a Christmas Eve Candlelight Communion service when I hooked up a pickle to some wires and then passed an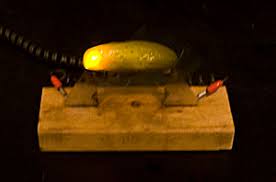 electrical current through it. And, because I wanted this to work, I had Jim Gillespie (an electrical engineer) build the platform for me. During the worship service I had the lights turned off and hooked up the pickle and it glowed! It wasn't a brilliantly bright light, but there was light.
A writer said we live in a spiritually charged universe. The flow of the Holy Spirit is all around us. We do not have much power in our own will, but we can choose whether we will be resisters or conductors. As I said at that Christmas Eve service, if God can make a pickle glow think what God can do through us. All we have to do is be open to let the spirit flow, like a straw in the Gulf Stream, when we are aligned with God, great things can happen.
I don't know a lot about chemistry or electricity but I do know that when we choose to quit being resisters and choose to be conduits, to let God's Spirit flow through us we can bring light, hope, love and grace to a world that is too often dark and to people who need to hear the Good News.