By Rev. Donn Brammer
When I was growing up, there was a TV show called ABC's Wide World of Sports. The opening showed TV clips of various athletes competing while the narrator said, "Spanning the globe to bring you the constant variety of sports…the thrill of victory…and the agony of defeat."
The disciple Peter knew both. He had 'the thrill of victory' as the first disciple to proclaim Jesus as the Son of God and the only disciple who walked with Jesus on the sea, if only for a few steps. Yet it was also this same Peter whose courage and discipleship failed so catastrophically in his denial, not once but three times, with curses and swearing, even though he had been told ahead of time it would happen.
Some of us have experienced those same kind of moments in our life of discipleship. We've had joyous thrills of victory in our spiritual lives and have also had our share of failures and denials.
In the last chapter of the Gospel of John, after Peter's failure, Peter went fishing. He went back to his old life as a fisherman, a fisher of fish, instead of continuing with the life of discipleship and calling Jesus had given him as a fisher of men. Perhaps Peter thought he no longer qualified to be a disciple because of his failure.
But Jesus refuses to let Peter's failure be the last word. With Jesus, failure is never final. Jesus calls to Peter and the disciples in the boat and even prepares breakfast for them on the beach. And then he asks Peter, 'Do you love me?' Three times. Once for each time Peter had denied him.
Jesus doesn't ask Peter three times to condemn Peter but to open Peter to the future. Jesus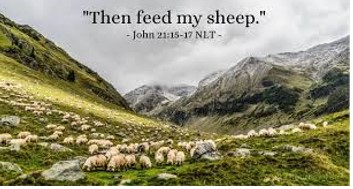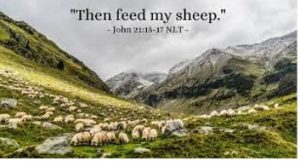 doesn't want Peter to dwell on his failure but to catch a glimpse of Peter's future. By asking Peter three times if Peter loves him, Jesus invites Peter to revisit his shame for the sake of healing and restoration, and then Jesus gives Peter a commission, 'Feed my sheep.' In other words, take care of my children.
Failure is never final when we are walking with Jesus. Peter saw Jesus from the boat and proclaimed, 'It is the Lord.' He didn't try to run from Jesus, he came to Jesus. Yes, Peter failed, but through his eyes of faith he also recognized Jesus. In our lives Jesus never lets our failure be the last word or the last act. He invites us to continue the story and to participate with him in caring for his sheep.
A life of discipleship seeks to span the globe to share the Gospel of Jesus Christ, the love and grace of God. Inevitably that means we will have
moments of victory and defeat, but in the resurrection and through the grace of God we are reminded that no defeat, no failure is ever final. Jesus invites us to share in a meal he has prepared (the Lord's Supper) to continue the story and to participate with him in caring for his sheep.